How to use Paytm to send and receive money over UPI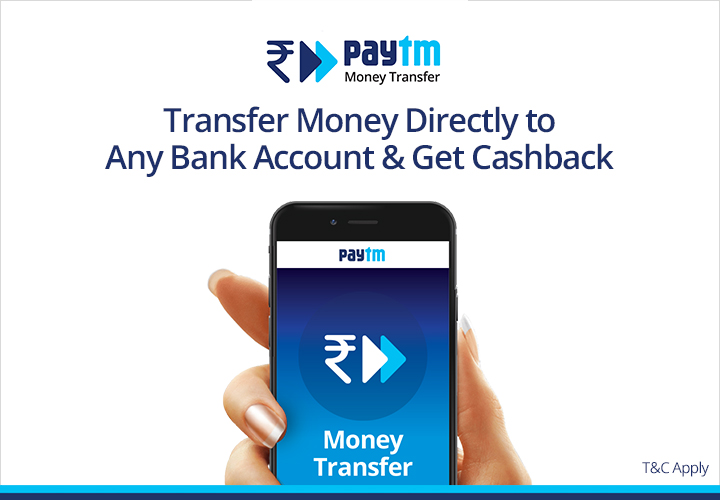 Enjoy Instant, Safe & Secure Money Transfer with Paytm

Ever wondered if there was a better way to transfer money? Get rid of lengthy process of account number & IFSC additions, waiting for beneficiary activation, transaction getting delayed as NEFT transactions are processed in a fixed slot. Here is Paytm UPI for you to forget Net-banking and do all your bank transfers in the safest and easiest way possible. Money transfer has never been more easy & convenient.

Now transfer money from your bank account to any bank account using Paytm app. You can check balance, transfer money to your friends & family, request money securely on Paytm. Money transfer on Paytm is powered by BHIM UPI, a revolutionary technology which enables payment to your bank account directly using mobile number only. Now, you can transfer money only using UPI address apart from usual "Account Number & IFSC" based money transfer.
All you need to do is link your bank account on Paytm and setup your MPIN. Your MPIN is a 4 or 6 digit passcode, stored securely with NPCI (National Payments Corporation of India). Your account details and MPIN is safe with NPCI and is authenticated with secure servers whenever money is deducted from your account using Paytm UPI.
Here is why you should forget Netbanking forever and adopt Paytm's "Bank Transfer" feature powered by BHIM UPI –
MONEY TRANSFER USING PAYTM BHIM UPI
MONEY TRANSFER USING NET BANKING

Link your Bank account
Enter Beneficiary details ( Bank a/c + IFSC or UPI address)
Enter amount & confirm
Enter your secure MPIN to authenticate
Transaction processed in real-time. Beneficiary gets money instantly.

Wow, you saved a lot of hassle & time.

Login to net banking with username & password
Add Beneficiary Details (Bank account & IFSC). Did you got stuck finding IFSC?
Wait for 30 mins to 24 hour for beneficiary activation
Login to your NetBanking again
Choose Beneficiary & Enter Amount
Wait for an OTP to be delivered on your phone
OTP not delivered? Yeah, we have been there too.
If OTP gets delivered, enter OTP to authenticate transaction
If you are using NEFT and NEFT window has closed, transaction will be processed later.
Your bank account should be linked to your mobile number & you must be logged-in to Paytm with that mobile number. Follow below steps to access "Bank Transfer" on Paytm –
On the home screen, click "Bank Transfer" icon on the blue strip on top
Choose your Bank which has account linked to your Paytm registered mobile number
After few seconds, all your accounts with that Bank account is shown on-screen
Click one of the accounts and wait for few seconds till your account is linked
Now, you need to setup your secure MPIN for transaction authentication
You can repeat above steps to link all your Bank accounts to Paytm
Download Paytm app for your phone now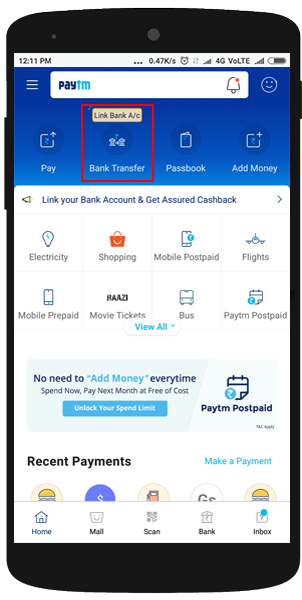 1 .Open the Paytm App & Tap on
'Bank Transfer'Icon
Paytm app is faster to load and easy to use. Transfer money instantly, 24×7 upto 1 lakh/day.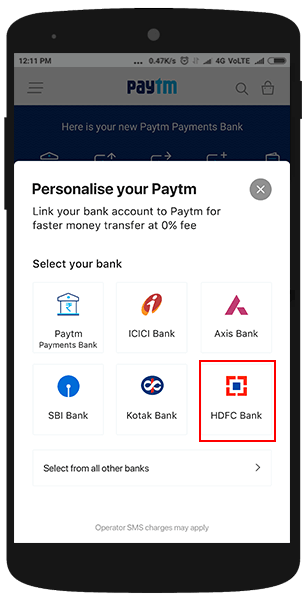 2 .Link your bank account with Paytm
Choose the bank with registered mobile number as your Paytm Number. We support all major banks.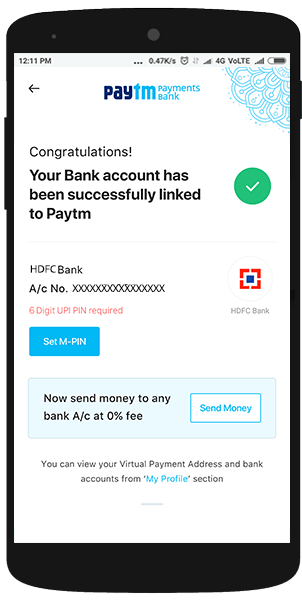 3.Account link SuccessfulSet your MPIN using your debit card. Now you can check balance of your linked account any time. You can view your Virtual Payment Address and bank accounts from 'My Profile' section.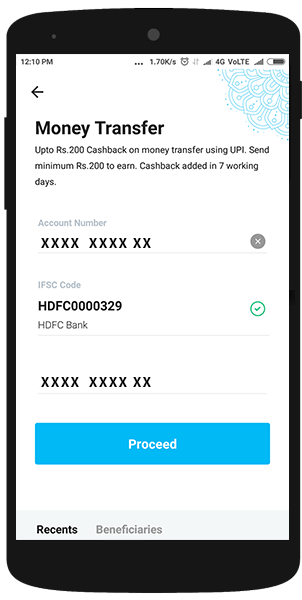 4.Enter the Details of the A/C Holder
Enter details of the account holder i.e., name, account number and IFSC code. Avail the benefits of Cashback offers on money transfer using UPI.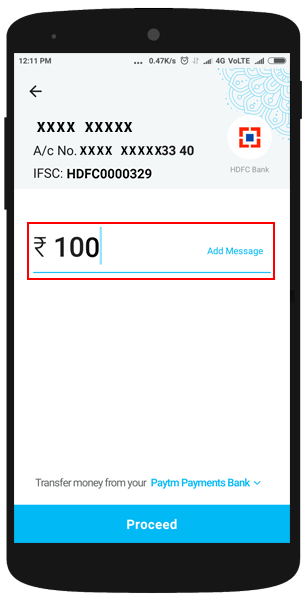 5.Fill in the Amount to Be Transferred
Fill in the amount you want to transfer and you also have the option to 'add message' with the money transfer.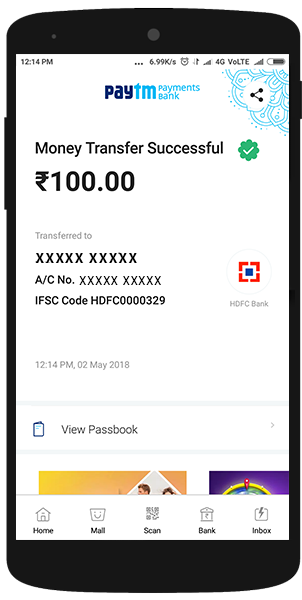 6. A'Transaction Successful'Message Will Reflect on the Screen
Get instant confirmation of your transaction status.
Advantages of Online Money Transfer Through Paytm UP
Speed: Money transfer on Paytm is very easy and get processed within a minute. The amount reaches the beneficiary's account as soon as you transfer the money.
Flexibility: You can transfer any amount you want and at any time you want, be it at night, day or any other time. No need to worry about the banks to be open.
Transfer On Holidays: Unlike traditional money transfer method or NEFT where you cannot transfer money on holidays, you can do that here on Paytm. Do not wait for the bank holidays to get over and transfer the money anytime you want.
Safe & Secure TransactionsAll financial transactions are 100% safe and secure on Paytm. We do round the clock real-time monitoring to intercept suspicious transactions and ensure that your money is always safe & secure.
Bank Transfer >
——————————————————————————————————
There are many ways to transfer the money to your Paytm wallet from your Bank account such as Debit cards, Google Pay App, BHIM app, etc. If you use your credit or debit card, the transaction might take a while because of the OTP verification. If you use Google Pay, BHIM or any other UPI enabled apps, you'll have to switch to the respective app to approve the collect request. So these methods need more actions and also time to process the transaction. The easiest and the quickest method to transfer money to Paytm from your bank account is by using Paytm UPI Money Transfer.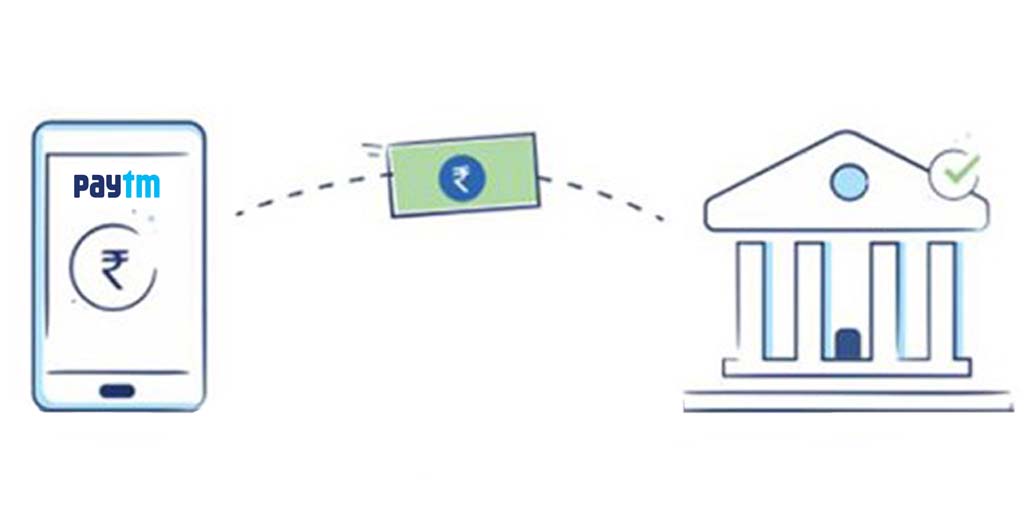 This tutorial includes three sections
Setting up UPI Money Transfer
Setting the Default banking account
Transferring the money to Paytm wallet from the Bank account
Setting Up UPI Money Transfer
Open Paytm App
Select UPI Money Transfer
Tap on Add New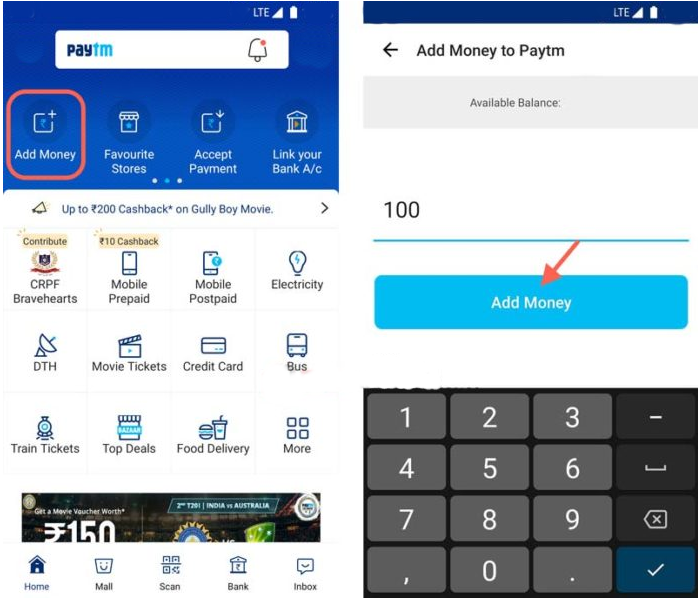 Select your Bank. Make a note that, the mobile number you have used while signing up for Paytm account must be linked with your Bank account
Once you select the Bank, Paytm will verify your Bank account number with the mobile number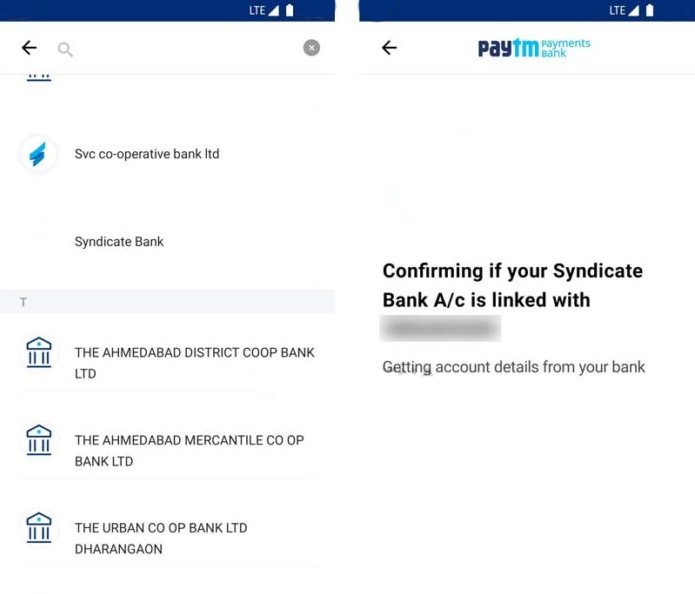 Once verified, selected Bank account will be added to the Paytm
You can find the Bank account in the UPI Money Transfer section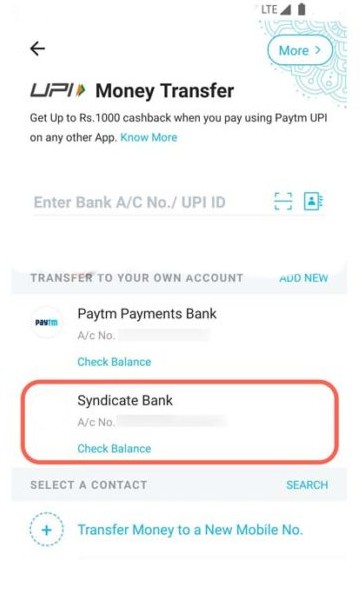 Setting the default banking account
Open UPI Money Transfer
Select More button on the top left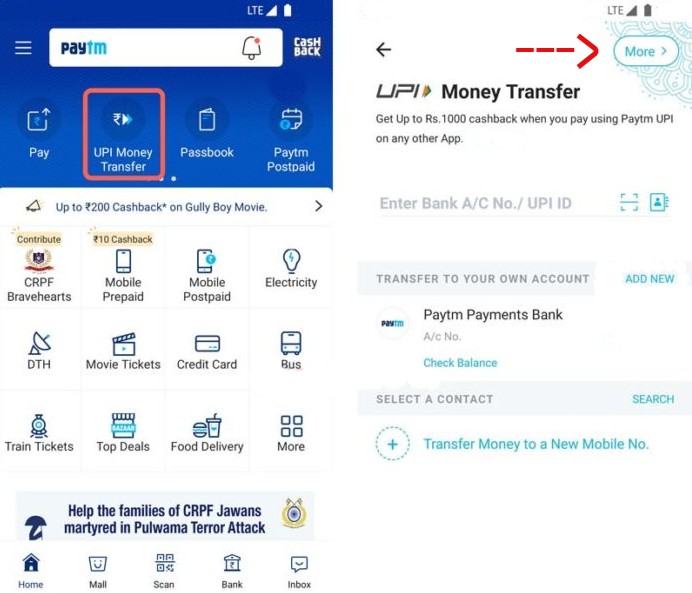 Tap on the I icon located in-front of your newly added Bank account
Select Make Default
Transfer money to Paytm wallet
Go to Add Money on Paytm home screen
Enter the amount you would like to transfer to Paytm wallet and Select Add Money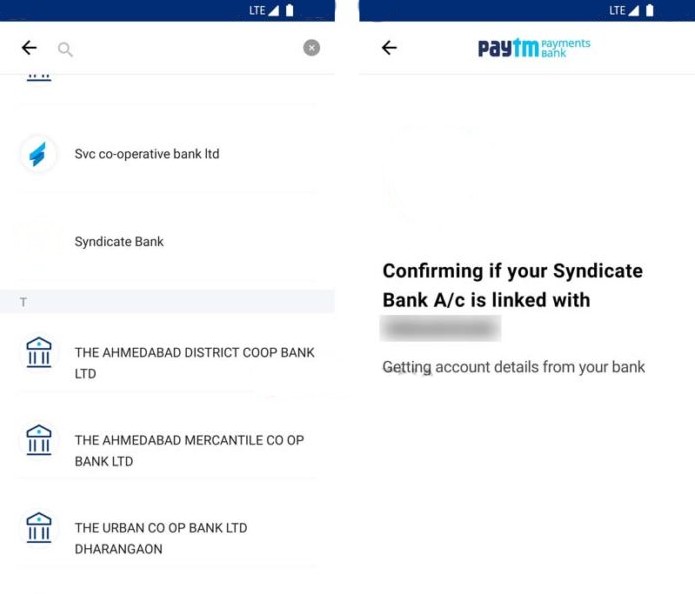 Select the newly added Bank
Enter your UPI PIN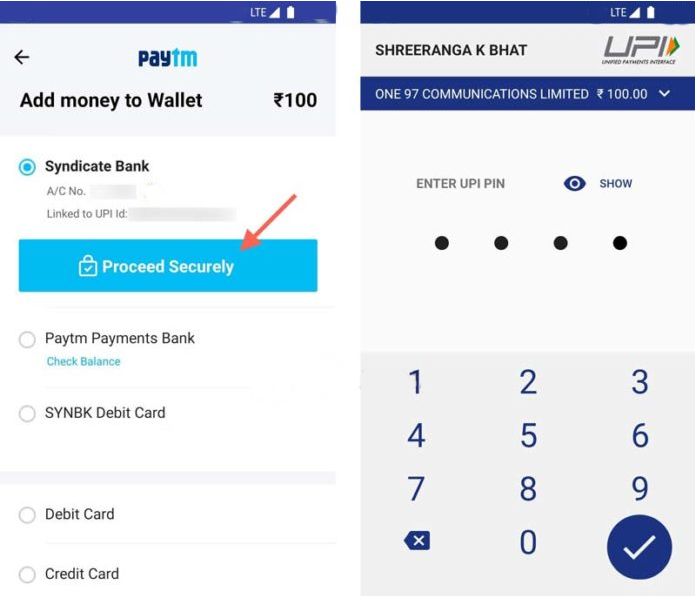 If entered UPI PIN is valid, the amount will be transferred to your Paytm wallet from your bank account instantly. You'll get the confirmation from both Paytm as well as your bank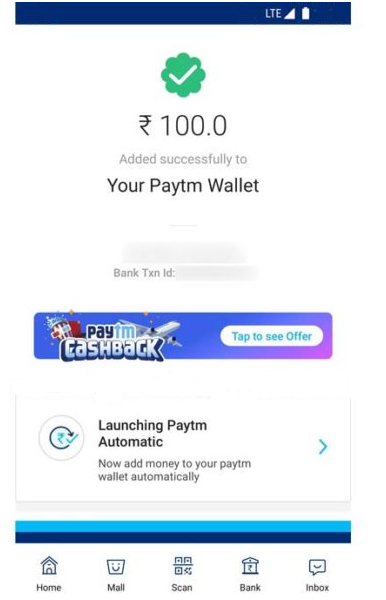 Enjoy Instant, Safe & Secure Money Transfer with Paytm