HOW TO USE UPI(BHIM) TO SEND AND RECEIVE MONEY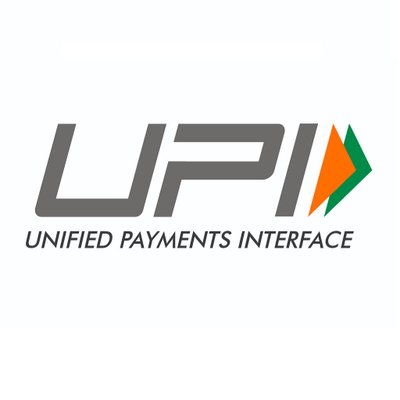 Download the BHIM app from Google Play. Open the app and select your preferred language. Language can be changed any time after the setup.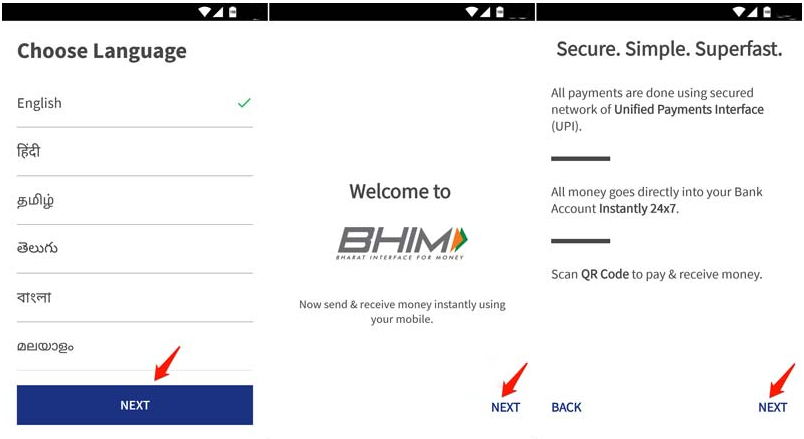 Tap on "Lets's get started" to give access to SMS and Phone State. Once the permission window pops out select Yes. Select your mobile number and tap on "NEXT". An SMS will be sent automatically to verify the registration status of your mobile number with the bank. If you have Dual SIM phone select the number which is linked to your bank account.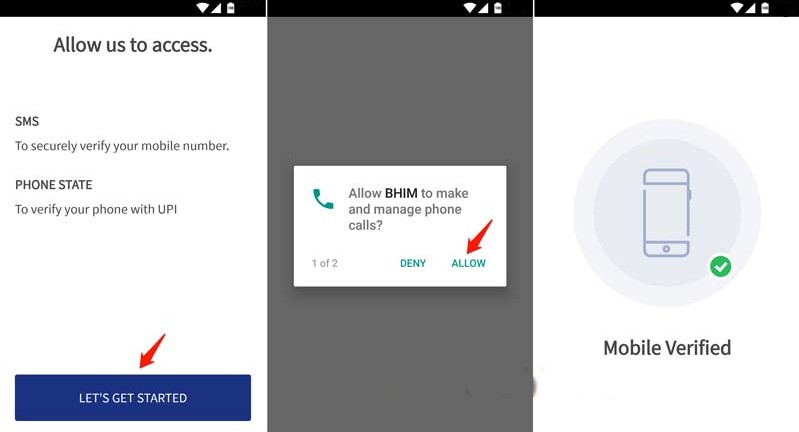 Once the number is verified, You will get confirmation. The verification process will take about 5 to 10 seconds. Enter the passcode. Enter the passcode again to confirm. This passcode is required every time to open the app. This completes the setup process. Now you can send and receive money using BHIM app. You can also check your bank balance.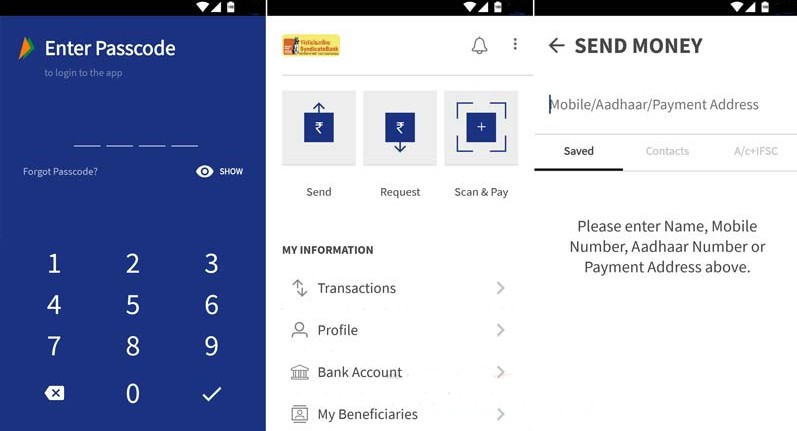 BHIM App Highlights
Fast, Secure, Reliable
No need to fill out bank details.
Send / Receive Money through mobile number
Balance Check
Custom Payment Address
QR Code Support
Multiple Language Support. (Currently, Hindi and English are supported. More languages will be added soon)
Points to Remember:
There are no charges for making a transaction through BHIM App. Your bank may levy a nominal charge as UPI transfer fee. Contact your bank for more details.
For the transaction, you need the UPI Pin which can be changed or generated from the BHIM App itself. To generate the new Pin you need your debit card number and expiry date.
Your account need not be enabled for mobile banking to use BHIM.
You can transact maximum up to ₹10,000 at a time. Daily Limit (24 Hours) is ₹ 20,000.
Currently, BHIM app supports linking of only one Bank. Anytime you can switch to another account from the settings menu.
Do not share your UPI PIN with anyone.