In the World Cup match on December 2, the Serbian team will play against Switzerland. Who will win in this duel?
SWITZERLAND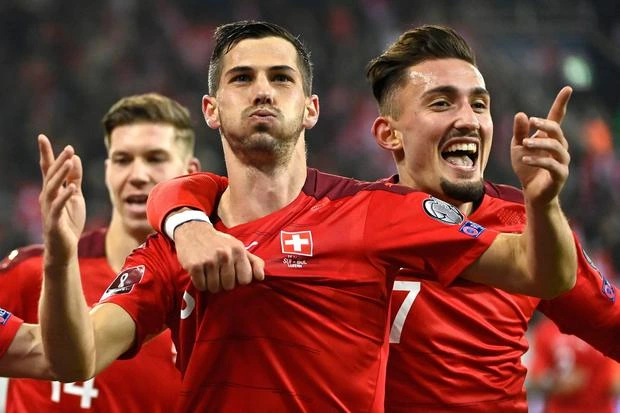 Just avoiding defeat is enough for the Swiss team to make the playoffs. Murat Yakin hopes to become the first coach to take the Swiss to the World Cup playoffs in three consecutive tournaments. And his team is well positioned to do so. Switzerland showed they are a tough nut to crack, holding off Brazil for more than 80 minutes before Casemiro's shot eventually led them to defeat.
A second consecutive loss would end the tournament, but they haven't lost consecutive World Cup games since 1994. Such a nice statistic leaves the Nati with hope for success. In addition, we can not exclude the appearance of Jerdan Shaqiri, who is the symbol of the team of nominal guests. Okafor, who has a muscle injury, will not be able to play today.
SERBIA
Serbia arrived at the tournament undefeated in qualifying with six wins and two draws. In the first two rounds of the current World Cup, Dragan Stojkovic's team lost to Brazil (0-2), followed by a two-goal deficit against Cameroon, which eventually brought the team a 3-3 draw. The coach was furious, calling his defense "incomprehensible", and said he would try to rectify the situation in the last game.
Expectations were high for Serbia at the World Cup after a stellar qualifying campaign in which they finished above Portugal. Nevertheless, the Eagles have so far failed to live up to their unofficial title of "dark horse" of the tournament. There is little hope of success, especially considering that the Serbs have conceded at least twice in each of their last four World Cup games but have failed to win any – a draw and three defeats.
PREDICTION
The Swiss team needs only one point to close out the playoffs. Brazil is likely to beat Cameroon in any combination of the lineup, with such an arrangement gives the "nati" a pass to the next round. Most likely, due to the class and experience of the players today's nominal guests will be able to take control of the game and achieve confident success, which is what we will bet on.
Our prediction is a win for Switzerland.
---
Follow this link to bet and win with you favorite team! But before, dont forget to check our Betting Guide, to make sure, that you will hame only positive emotions during the game.